Back To Our Services
At Garage Door Springs National City we know all about Door Springs. Of all the things we know; the one thing we know for sure is that door springs should not be on your list as a DIY project. There are two kinds of garage door springs and we carry them both on our trucks at all times. The torsion spring is the one you have to be most weary about. It is mounted on both sides of the door center and has to be wound incredibly tight in order to achieve the tension that is needed to lift heavy garage doors. If this spring snaps loose; it can deliver a strike with deadly force. There have been cases where individuals working on a torsion spring have been killed or badly injured.
All Types of Broken Garage Door Springs Repair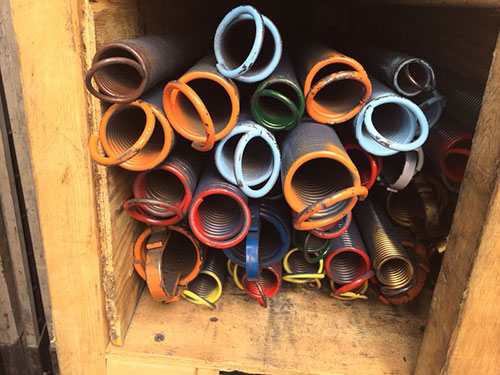 We also have the extension spring. This spring is not quite as bad as the torsion but it can deliver deadly force too when not handled well. We know that our garage door techs can provide excellent broken spring repair/replacement services for you. They will take the risk of getting hurt so you don't have to DIY. You can also use a galvanized door spring. These springs will cost more but they are designed to last for many decades; whereas regular springs may only last around 3 years to 20 years. Don't put your safety in jeopardy. Allow one of our experienced techs to repair, replace or install your garage door springs.
Service is good at our National City Door Contractor because we do our best to provide excellent repair, replacement, and installation service; but also because we use the best brand names in the business for our customers like Chamberlain, Genie, Craftsman, Liftmaster, Marantec, and Sears. Our techs are experts on door opener troubleshooting and will find any problems very quickly. When you get an opener you have three choices of drive motors to choose from. The chain drive is loud and should not be used in a garage next to a bedroom unless you have big ear plugs. The chain turning that cog will sound like an elevator from the dark ages. The Screw Drive will not be quite as bad but expect some noise. The Belt drive is the one to have if you can afford it because it runs very quiet. These openers can be very heavy and should only be installed by professionals.
We think it is safe to say that all owners want to get the most out of their garage door. You want to get as many years out of it as you can. The best way to accomplish that feat is through our regular maintenance/adjustment services. Our techs will make sure every part is lubricated, adjusted, and tightened up so that everything continues to operate smoothly.
Replacement and Repair of Overhead Garage Doors Springs
We also offer a very good door remote service and Door King gate operator. No one wants to pull up to a garage in the middle of a storm and have to jump out of the car desperately trying to hang on to an umbrella while trying to get the door open. A dependable door remote eliminates those horrible moments that you would just as soon forget. We offer outstanding brand names like Genie Intellicode, Liftmaster Security Plus, Clicker, and Multi Code. If you want the best out of your remote system let our company/contractor in National City install your new system quickly and effectively.
We offer door replacement/installation services as well. When you feel that it is time to replace your garage doors or door windows, please contact us at to do the job for you. We sell and install doors made out of wood, aluminum, steel, and glass. Glass doors make your homes look elegant
We suggest that you always use an experienced professional garage door tech to do all your garage door opener repairs.
Garage door cables & tracks are essential to a successful garage door system. If a track is bent or a cable broken then your garage door will not operate until a solution is found. Our garage door company in National City has the experience to fix garage springs for you.
Back To Our Services